A broad range of delicious beverages.
At Nicolas Vahé we appreciate a good beverage. That is why we have a wide range of different beverages – from wine to coffee and lemonade. In short, beverages for the
whole year and for every need.
The great thing about ice coffee is, other than it being delicious, that it allows you to drink coffee all year round – even on a hot summer's day where regular, hot coffee just does not cut it. The espresso comes with a caramel aroma which adds a hint of sweetness to the strong, tasty coffee. All you have to do is add either milk, water, or chocolate milk, depending on your preference. Finish with crushed ice, and voila, you have the perfect, cold drink.
Nothing says cosy get-together like a lovely red wine and delicious snacks. This Syrah comes in a simple bottle matching the elegant and tasteful wine. It accompanies red and white meat, or small dishes as well as cheese boards. You can also create a cosy setting with wine and snacks. And the great thing is that Nicolas Vahé has everything that you need. From wine to snacks, dip and even the cutting board used for serving. This means that you can create a beautiful dinner setting where look and taste are taken care of.
An alcohol-free taste of summer
Summer might seem far away right now but rest assured – brighter days are coming. For now, let Nicolas Vahé take you back to warm summer days spent on a blanket in the sun. With our summer beverages, you can get that little taste of summer even if it isn't here just yet. Quench your thirst with an ice-cold ginger ale and enjoy the subtle tingle and warmth from the ginger. Contrary to most fizzy drinks, ginger ale is not that sweet, making for a more nuanced experience. With it being non-alcoholic, it can be enjoyed by the entire family, in punches and cocktails. It also makes for a great mixer for drinks like Dark & Stormy and Moscow Mule.
If you are in the mood for something more traditional, but still with the subtle hint of ginger, you will certainly enjoy our refreshing lemonade with ginger and lime. Right now, the lemonade acts as a lovely reminder of summer, and when summer finally arrives, it will be the perfect picnic companion for days spent on that blanket in the hot summer sun.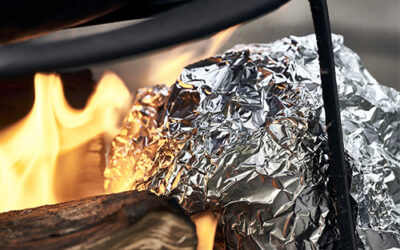 Let the delicious aroma of your cooking spread across the garden as the smoke rises from an open fire. Outdoor cooking is the perfect way to enjoy the outdoors with friends and family. Especially in...
read more