Cool down with summer drinks
At Nicolas Vahé, we have a great selection of beverages that are perfect for warm days. Beverages that work great on their own and as part of delicious drinks. Read on to learn more about our selection of beverages and be inspired by our delicious recipes. .
Our lemonade with ginger and lime is the perfect beverage for those wonderful summer picnics where you need something cold and refreshing. The lemonade also works wonders in a range of drinks. Create the perfect mojito for example. Simply add 20 ml of our vanilla syrup, a handful of fresh mint, one lime cut in cubes and 40 ml of white rum. You can leave out the rum if you prefer the drink as non-alcoholic. Use a spoon to mash and stir it all together. Fill the glasses with ice cubes and top with lemonade. You have just made the perfect summer drink – great for a garden party or a slow day in the sun.
We carry a lot more than just delicious beverages and ingredients for drinks. Among our selection you also find the accessories that you need to create the perfect drink. From measuring cups for making exact measurements to beautiful bottles for serving.
Let the sun shine on you just like it has on the grapes of our Côtes du Rhône white wine, ripening them and making them ready for production. With a beautifully golden colour and simple green notes, you will be able to sense the smell of exotic fruits, citrus and white flowers. The white wine has a complex yet fresh flavour that is long-lasting. We recommend serving it chilled at 8°C, making it the perfect choice for a delicious summer dinner after a warm day. If you feel a little creative, the wine also makes for a great ingredient in a delicious elderflower white wine drink. Add ice cubes, 20 ml of our elderflower syrup and 100 ml of our white wine to a shaker and shake well. Then pour into two glasses and top with 100 ml sparkling water. Garnish with thin slices of apple or lemon balm leaves. Another showstopper that your guests are certain to enjoy.
Fizzy drinks are among the most popular thirst quenchers when the temperature rises. With a ginger ale you get the thirst-quenching qualities of fizzy drinks but with a refined twist that separates and elevates it to another level. As opposed to most fizzy drinks, ginger ale is not that sweet. Instead, you enjoy it for its discreet, spicy qualities. Another delicious way of quenching your thirst on a hot summer's day is to create a rhubarb-melon lemonade, a great companion for a cosy picnic. Blend 200 g watermelon, the juice from one lime and a handful of fresh mint. Strain and pour it into two glasses filled with ice cubes. Top with our raspberry and rhubarb lemonade and garnish with fresh mint. Voila, a summer drink for everyone to enjoy.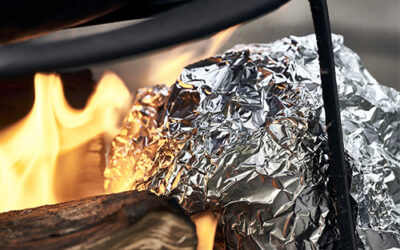 Let the delicious aroma of your cooking spread across the garden as the smoke rises from an open fire. Outdoor cooking is the perfect way to enjoy the outdoors with friends and family. Especially in...
read more