AW 2021 – a season of tasteful servings
Nicolas Vahé is simplicity at core. This season, we expand our flavours with new salt blends and adding to the range of accessories, we introduce a brand-new mini cookware range.
Great food does not have to be complicated
Nicolas Vahé is about simplicity and approaching food from a no-nonsense standpoint. We aim to open your eyes and taste buds to how classic ingredients can give a brand-new taste experience. 
This season, we expand our flavours with new salt blends. We also add to the range of accessories with new storage solutions that complete your kitchen décor and a mini cookware range that lets you serve your dishes in a pub-like, yet stylish manner.
Our new salt blends add even more flavour to your dishes and turn them into a visual feast in no time.
Chilli blend
Give your dishes a spicy undercurrent with the new chilli blend. Use it as the finishing touch to roast potatoes and vegetables, meats and dressings when you want to serve a delicious meal with a lingering heat. When it comes to giving your guests a memorable dining experience, this salt definitely delivers.
Wild garlic
With a light and delicate flavour, wild garlic is the perfect seasoning. This blend is perfect as a finishing garnish on steaks, roast potatoes, and dips. Instead of overwhelming your tastebuds, it adds a delicate and balanced garlic note that elevates any dish.
Black sea salt
Give your dishes a finish worth noticing. This black sea salt is mixed with activated charcoal to add a striking touch to your cooking. The deep black colour of the salt heightens the appeal of any meal. Top off your soft-boiled egg, salads, meats and sauces with this salt and turn your cooking into a visual feast.
 The salt blends all come with a ceramic grinder which gives you finely ground spices. This releases the oils for even more aroma and flavour in your dishes.
It is all about presentation, and with the new range of miniature tableware from Nicolas Vahé, your guests are in for a spectacular dinner. Serve individual portions in the presentation pots and pans that add an informal yet stylish touch to your table setting with their beautiful brass handles and stainless steel. Take your dishes straight from oven to table and give your guests a memorable experience.
 The range includes frying pans, saucepans, roasting dishes, pots, pans, and buckets – all in mini sizes perfect for serving individual portions at the table.
Practical and yet so elegant. These new additions add warmth and style to our existing range of storage. Materials like seagrass, steel and smooth, ceramic glazes turn functional storage into stylish décor.
The Naba baskets add a natural and informal touch to the table, while the Barn jars bring a retro feel with their classic design and warm colour. For the shelving unit Rack, we have designed drawer-like storage solutions for a more dynamic and clean display.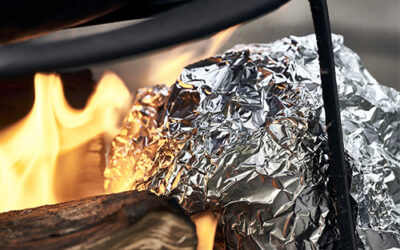 Let the delicious aroma of your cooking spread across the garden as the smoke rises from an open fire. Outdoor cooking is the perfect way to enjoy the outdoors with friends and family. Especially in...
read more