Coffee and tea with a clear conscience
Can you think of something better than sharing a freshly brewed cup of coffee or tea? It is the perfect ingredient when talking to good friends about the great and small events in our everyday life.
We cannot avoid that coffee and tea are a meeting place that brings us closer together. With their rich aroma and calming warmth, they provide us with a feeling of zen and enjoyment. Perfect for cosy moments. With our loved ones.
For most of us, smells are associated with memories. When the pleasant smell of freshly brewed coffee spreads in the air, you might think about your grandmother's kitchen. Or perhaps a smell of a refreshing cup of fruit tea reminds you of your trip to China. Our sense of smell is linked with our brains – therefore, old memories sometimes emerge when we smell certain smells.
It is perfect to enjoy coffee and tea together and they are also perfect as gifts – for a good friend, mother, a colleague or just someone that deserves an unforgettable moment.
Gift baskets can be made in endless ways and fits perfectly together with the additional products from Nicolas Vahé. You can create gift boxes with certain themes or just matches the special occasions. From gift boxes with ingredients for a slow morning coffee or delicious afternoon tea. For personal wedding presents or sweet hostess gifts.
At Nicolas Vahé we have made an effort to create the best possible taste experience within our tea- and coffee variants. Our coffee is made in collaboration with Farm Mountain and together we care about the taste, quality and especially viability.
Our coffee is grown on Mount Elgon in Uganda where Farm Mountain works with 933 farmers. They help the farmers getting a better life with financial security and a sustainable production. Farm Mountain visits the coffee farmers 2-3 times a year to help with possible challenges. We make it a point of honour to collaborate with Farm Mountain since the coffee tastes a bit better in our opinion when it is made with love.
Because coffee is not just coffee. It is about the raw material and the loving care through the whole process – from the coffee tree is planted to the final harvest of the coffee beans. It is about hard-working and proud farmers who get profit by their professional and tradition-bounded knowledge by growing the best coffee beans. The coffee from Nicolas Vahé is made of hand-picked coffee berries. The coffee berries are processed with the greatest possible respect for quality and taste. Our coffee originates from a pure coffee bean with full-flavoured taste, a lot of personality and a delicate, balanced sourness.
We have launched four new variants of coffee for different occasions and taste buds. Which one will be your absolute favourite?
At Nicolas Vahé it is not only coffee we are passionate about. We just launched four new, delicious variants of tea. Most people know that a variety of different tea types exist – but only a few know how the different types of tea are made.
At Nicolas Vahé we have three different types of tea; white, green and black tea. These different types of tea all come from the same type of tea plant.
The white tea is made from the fresh shoots on the tea plant which are gathered before the tea plant starts to flower. The green tea is made of the dried, freshly gathered tea leaves. The black tea is made of the green tea which later gets crushed and oxidised in order to get the characteristic, black colour. Each type of tea has its own taste and volume which we at Nicolas Vahé have carefully compound with ingredients that complement the individual type of tea in the best possible way.
It is not only the taste and volume that vary when drinking the different types of tea. The infusion time together with the temperature of the water also play a part. To obtain the most harmonic taste we recommend the following brewing method:
– Brew the white tea at 70 degrees for 2-4 minutes
– Brew the green tea at 80 degrees for 2-3 minutes
– Brew the black tea at 100 degrees for 3-4 minutes
Tea tip… If you want a sweeter tea taste, you can add a bit of the coffee syrup from Nicolas Vahé or a sprinkle of our new, tempting variant of sugar.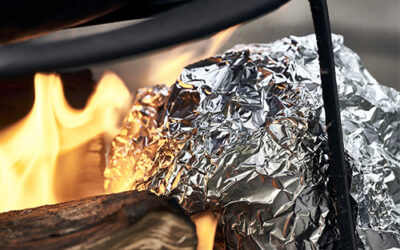 Let the delicious aroma of your cooking spread across the garden as the smoke rises from an open fire. Outdoor cooking is the perfect way to enjoy the outdoors with friends and family. Especially in...
read more