Soft-boiled egg served with crispy ham, snack salami, tomato baked with balsamic vinegar and fresh herbs. Overnight oats with chia, apples marinated in mulled white wine and caramel sauce.
A variety of cheeses.
Freshly baked butter croissant with raspberry/pepper/chili jam, topped with burnt meringue.
Homemade bread, butter and jam.
Soft-boiled egg
Boil the egg for about 6 minutes and bake the ham in the oven at 180 °C for about 10-15 minutes until crisp. Serve with small slices of mini snack salami.
Cherry tomato baked in balsamic vinegar
In a bowl, mix fresh cherry tomatoes with Nicolas Vahé Balsamico Vinegar, add a dash of salt and pepper and bake in the oven at 100 °C for about 2 hours.
Serve in a small bowl topped with fresh herbs such as parsley or thyme.
Cheese
A variety of hard cheeses neatly wrapped. Cut out 4 kinds of cheese in bite-size portions. Place grease-proof paper between each layer of cheese and finish by neatly wrapping it all in Nicolas Vahé grease-proof paper with a Nicolas Vahé string around the package.
Overnight oats with chia
Preptime 10 hours
Serves 8 people
Ingredients
200 ml gluten-free oats
2 tbsp chia seeds
600 ml gluten-free oat milk or almond milk
2 tbsp honey
A pinch of salt
1 large red apple, in cubes
2 tbsp Nicolas Vahé Mulled Wine, White
1 glass of Nicolas Vahé Sugar, Salt Caramel
150 ml cream
Nicolas Vahé Salt, French Sea
8 small leaves of green wood sorrel
Preparation
Add all ingredients to a bowl and stir for a few minutes until the chia seeds are well mixed. Leave it in the fridge overnight.
Add apple cubes and mulled wine to a bowl and mix.
Melt the sugar in a saucepan and carefully pour in the cream, making sure it does not come to a boil.
Reduce the sauce by half, remove it from the stove and add a pinch of sea alt.
Fill 8 small glasses halfway with the overnight oats, top with caramel sauce and apples. Garnish with wood sorrel.
Homemade bread
Preptime 3-4 hours
Servings 25-50 buns
Ingredients
1L cold water
25 g yeast
1 bag of Nicolas Vahé Bread Mix, Crusty Morning
600 g Manitoba wheat flour
2 tbsp honey
30 g fine salt
Preparation
In a mixer, dissolve the yeast in water.
Add the bread mix, flour and honey. Mix at medium speed for about 10 minutes.
Add the salt and mix at max speed for a few minutes until the dough is released from the bowl.
Leave the dough to rise at room temperature until it is double in size or leave it to rise in the fridge overnight.
Pre-heat the oven to 230 °C.
Make 25-50 buns and bake for 12-15 minutes.
If you like, give the bread two bursts of steam in the beginning, and lower the temperature to 200 °C after a few minutes.
Leave to cool.
Filled croissants
Preptime 30 minutes
Servings 10-15 croissants
Ingredients
10-15 mini croissants (each about 25 g)
50 ml egg whites
100 g sugar
25 g powdered sugar
½ glass of Nicolas Vahé Jam, Red Bell Pepper, Raspberry & Chili
Preparation
Bake the croissants as written on the package.
Beat the egg whites and sugar until light and fluffy. Add powdered sugar and beat for another 30 seconds.
Pour into a piping bag with a star nozzle.
Pour the jam into another piping bag and cut a small hole in a corner.
Cut a small hole in the top of the croissant. Fill it with a bit of jam and top with meringue. Burn the meringue until slightly golden.
Aceto Balsamico di Modena, PGI, 8.5 fl.oz/ 250 ml.
Grease proof paper, White, Pack of 50 pcs
Mulled Wine Extract – White, 25 cl.
Sugar, Salt Caramel, 100 g.
Organic Breadmix, Crusty Morning, 600 g.
Jam, Red bell pepper, Rasberry & chilli, 240 g.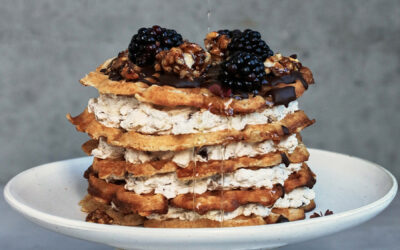 Makes: 1 cake for 6-8 people Prep time: 120 minutes Ingredients 1 bag of Nicolas Vahé Waffle & Pancake Mix 50 g melted butter 50 g Nicolas Vahé Olive Oil / Walnut 3 eggs 300 ml milk 125 g...
read more