Thyme & pistachio shortbread
Serves: 15-20 slices
Time: 60-75 minutes, 30 minutes to cool, 5 minutes to bake
Ingredients
100 g icing sugar
200 g butter
300 g wheat flour
1 small egg
1 tsp vanilla powder
1 small handful of coarsely chopped and fresh thyme
2 glasses of Nicolas Vahé curd / Pistachio
 Preparation
Add all ingredients except the curd to a bowl and mix.
Place the dough in the fridge for at least 30 minutes.
Preheat the oven to 200°C.
Roll out the dough until it is about 3 mm thick and cut into shortbread rounds of a suitable size.
Place on a baking sheet with baking paper and bake for about 5 minutes until golden.
Let them cool off on a wire rack.
Spread the curd onto a slice and add another slice on top.
If you like, finish with glaze, cream or whipped cream on top, and garnish with fresh berries or chopped chocolate.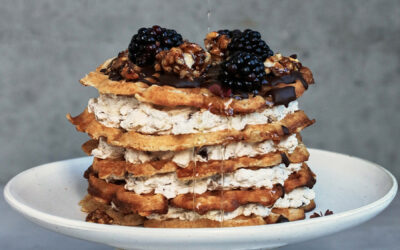 Makes: 1 cake for 6-8 people Prep time: 120 minutes Ingredients 1 bag of Nicolas Vahé Waffle & Pancake Mix 50 g melted butter 50 g Nicolas Vahé Olive Oil / Walnut 3 eggs 300 ml milk 125 g...
read more