Bulgur salad with tomato and plum
Prep time 40 minutes
Serves 4 people
Difficulty Easy 
Ingredients
½ Nicolas Vahé Bulgur
½ cucumber
3 plums
250 g cherry tomatoes
2 buffalo tomatoes
1 glass Nicolas Vahé Bruschetta / Tomato & Taggiasca Olive
A handful fresh basil
½ glass Nicolas Vahé Nut Mix / Smoked Almonds, chopped 
Preparation
Boil the bulgur according to recommendations on the packaging. Drain the bulgur and allow to cool off. Chop cucumber, plum and tomato and mix bulgur with Bruschetta. Server bulgur topped with chopped vegetables, fresh basil and chopped almonds. 
Bruschetta, Tomato & Taggiasca Olive, 135 g.
Nut Mix – Smoked Almonds, 75 g.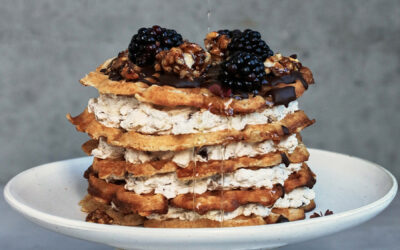 Makes: 1 cake for 6-8 people Prep time: 120 minutes Ingredients 1 bag of Nicolas Vahé Waffle & Pancake Mix 50 g melted butter 50 g Nicolas Vahé Olive Oil / Walnut 3 eggs 300 ml milk 125 g...
read more