Chicken salad with crispy serrano ham
Prep time
15 minutes
Serves
4 people
Ingredients
4 slices of ryebread
4 slices of serrano ham
For the pickled onions:
1 glass of Nicolas Vahé Vinegar / Raspberry
200 ml sugar
½ tsp salt
1 large red onion in slices
300 g chicken inner fillet, boiled and pulled
2 tbsp Nicolas Vahé Mayo / Garlic
2 tbsp crème fraiche, 38%
2 tsp Nicolas Vahé Chutney / Tomato, Apple & Chili
1 a diced apple
1 a diced pear
Nicolas Vahé Salt / Black Sea Salt
Butter
A small handful of frisée salad
Preparation
Bake the serrano ham on a baking sheet with baking paper in a preheated oven at 180 °C for about 8-10 minutes until crisp.
In a small pot, bring vinegar, sugar and salt to boil until the sugar is dissolved. Add onion to a bowl and pour the liquid over.
Let it cool for 10 minutes.
Mix chicken, mayo, crème fraiche, chutney, apple and pear in a bowl and add salt to taste.
Butter the ryebread and add the salad. Top with serrano ham, pickled onions and fresh herbs.
VINEGAR, RASPBERRY, 200 ML.
MAYONNAISE, GARLIC, 135 G.
CHUTNEY, TOMATO, APPLE & CHILI, 150 G.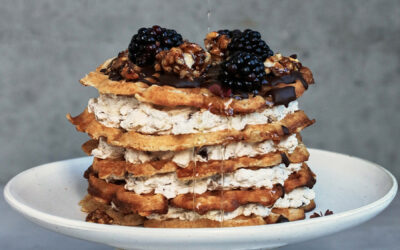 Makes: 1 cake for 6-8 people Prep time: 120 minutes Ingredients 1 bag of Nicolas Vahé Waffle & Pancake Mix 50 g melted butter 50 g Nicolas Vahé Olive Oil / Walnut 3 eggs 300 ml milk 125 g...
read more