Serves: 4 people
Prep time: 45 minutes
Ingredients
1 diced squash
4 dices carrots
2 tbsp Nicolas Vahé Olive Oil / Thyme
Nicolas Vahé Salt / Lemon & Thyme
1 pack of Nicolas Vahé Maccheroni / Durum, Barley & Rye
1 glass of Nicolas Vahé Tomatoes / Semi-sun-dried & sliced
The juice and zest of an organic lemon
Nicolas Vahé Pepper / Lemon Peel
Preparation
Preheat the oven to 200°C.
Mix squash and carrots with oil and salt.
Put it on a baking sheet with baking paper and bake in the oven for 15 minutes until golden.
Cook the maccheroni as written on the packaging and drain.
Mix pasta with the baked vegetables, tomatoes, the juice and zest from the lemon, some extra oil and top with pepper. 
ORGANIC OLIVE OIL WITH THYME
MACCHERONI DURUM, BARLEY & RYE
TOMATOES SEMI-SUN-DRIED & SLICED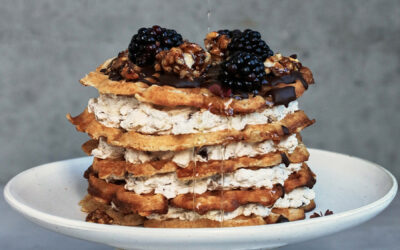 Makes: 1 cake for 6-8 people Prep time: 120 minutes Ingredients 1 bag of Nicolas Vahé Waffle & Pancake Mix 50 g melted butter 50 g Nicolas Vahé Olive Oil / Walnut 3 eggs 300 ml milk 125 g...
read more