Egg wraps with hot smoked salmon and spinach
Prep time
30 minutes
Serves
4 people
Ingredients
5-6 eggs
Salt and pepper
Oil for frying
200 plain cream cheese
2 tsp Nicolas Vahé Pesto / Basil & Lemon
2 pieces of hot smoked salmon
2 tsp Nicolas Vahé Mayo / Garlic
50 g fresh spinach
Half a cucumber in large ribbons
2 ripe avocados in slices
Nicolas Vahé Salt / Black Sea Salt
Preparation
Whisk eggs, salt and pepper in a bowl. Heat a pan with some oil and make 4 thin pancakes.
Mix cream cheese and pesto.
Mix salmon and mayo.
Spread cream cheese, spinach and salmon on the pancakes. Top with cucumber, avocado and salt.
Roll them into wraps, wrap them in paper and take them with you.
PESTO, BASIL & LEMON, 135 G.
MAYONNAISE, GARLIC, 135 G.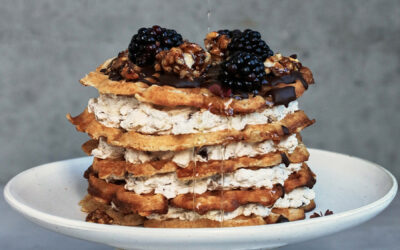 Makes: 1 cake for 6-8 people Prep time: 120 minutes Ingredients 1 bag of Nicolas Vahé Waffle & Pancake Mix 50 g melted butter 50 g Nicolas Vahé Olive Oil / Walnut 3 eggs 300 ml milk 125 g...
read more