Elder flower and thyme tonic
Serves 1 person
Prep time 5 min.
Ingredients
1 handful of ice cubes
3 cl Nicolas Vahé Fruit syrup / elder flower
4 cl gin (optional)
1 bottle of Nicolas Vahé Tonic / elder flower & thyme
1 sprig of fresh thyme
Preparation
Fill ice cubes in a glass and put the elder flower syrup in.
Add gin, if you want a drink with alcohol. Stir to mix the syrup and gin.
Top with tonic and decorate with fresh thyme.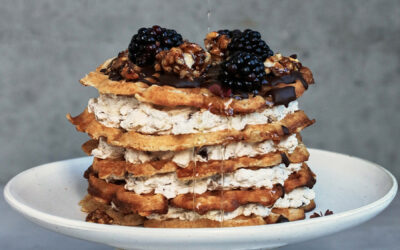 Makes: 1 cake for 6-8 people Prep time: 120 minutes Ingredients 1 bag of Nicolas Vahé Waffle & Pancake Mix 50 g melted butter 50 g Nicolas Vahé Olive Oil / Walnut 3 eggs 300 ml milk 125 g...
read more