Fish fillet with basil remoulade
Prep time
30 minutes
Serves
4 people
Ingredients
2 tbsp Nicolas Vahé Mayo / Estragon
1 handful fresh basil
2 tbsp crème fraiche, 38%
2 tsp Nicolas Vahé Pickles / Savoury Gourmet Sauce
Salt and pepper
100 ml flour
100 ml breadcrumbs
4 cod fillets
1-2 eggs
4 fish fillets
4 slices of rye bread
Butter
Oil
A handful of crisp salad
Cress for garnish
1 organic lemon in wedges
Preparation
Blend mayo and basil with a hand blender. Add crème fraiche and pickles and stir well. Add salt and pepper to taste.
Mix breadcrumbs and flour in a soup plate and dip the fish in egg followed by the flour.
Fry the fillets on each side for a few minutes on a hot pan with lots of oil.
MAYONNAISE, TARRAGON, 135 G.
PICKLES SAVOURY GOURMET SAUCE, 150 G.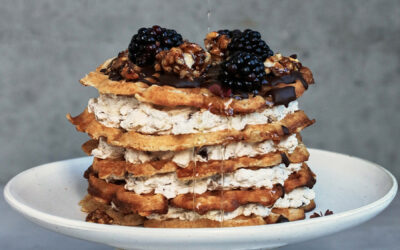 Makes: 1 cake for 6-8 people Prep time: 120 minutes Ingredients 1 bag of Nicolas Vahé Waffle & Pancake Mix 50 g melted butter 50 g Nicolas Vahé Olive Oil / Walnut 3 eggs 300 ml milk 125 g...
read more