Flatbread with bruschetta
Prep time 1.5 hours to raise and 10-15 minutes to bake Serves 8 flatbreads Ingredients 25 g yeast 250 ml water 2 tbsp Nicolas Vahé Olive Oil / Herbes de Provence 2 tsp sugar 1 tsp salt 450 g wheat flour 2 tsp Nicolas Vahé Bruschetta / Tomato & Taggiasca Olive Preparation Dissolve the yeast in the water and add the rest of the ingredients. Knead well. Leave the dough to raise to double size for about 1.5 hours. Divide the dough into 8 equally large pieces and flatten them using a cake roll and a bit of flour on the kitchen counter. Over open fire, heat a frying pan and bake the bread over high heat, one at a time, for a few minutes on both sides until golden.
OLIVE OIL WITH HERBES DE PROVENCE, 25 CL.
BRUSCHETTA, TOMATO & TAGGIASCA OLIVE, 135 G.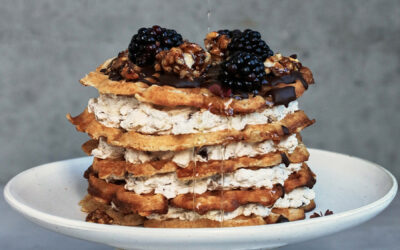 Makes: 1 cake for 6-8 people Prep time: 120 minutes Ingredients 1 bag of Nicolas Vahé Waffle & Pancake Mix 50 g melted butter 50 g Nicolas Vahé Olive Oil / Walnut 3 eggs 300 ml milk 125 g...
read more