French toast with vanilla syrup
Serves 4
Prep time 20 min.
Difficulty Easy
Ingredients
1 bag of Nicolas Vahé Organic bread mix / Crusty Morning
3 eggs
150 ml milk
½ tsp cinnamon
½ tsp cardamom
1.5 tbsp sugar
2 tbsp butter
Topping
4 tbsp Nicolas Vahé Coffee syrup / vanilla
2 fresh figs
A handful of berries, e.g. blueberries or strawberries  
Preparation
Bake a loaf of bread following the instructions on the back of the bread mix bag.
Slice 8 large slices.
In a bowl, whip eggs, milk, cinnamon, cardamom, and sugar.
Heat butter in a frying pan at medium heat.
One by one, dip a slice of bread in the egg mix and fry it on both sides for a few minutes until crusty and golden.
Arrange two slices of bread on a plate and top with vanilla syrup, figs and berries.
ORGANIC BREADMIX, CRUSTY MORNING, 600 G.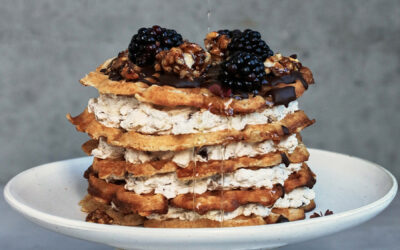 Makes: 1 cake for 6-8 people Prep time: 120 minutes Ingredients 1 bag of Nicolas Vahé Waffle & Pancake Mix 50 g melted butter 50 g Nicolas Vahé Olive Oil / Walnut 3 eggs 300 ml milk 125 g...
read more