Green mini romaine with basil dressing and smoked almonds
Serves 4 people
Prep time 15 min.
Ingredients
2 mini romaines
200 g of edamame beans
3 pieces of spring onions, in thin slices
75 g of rucola
1 handful of chives, cut
1 dl of yogurt natural
¼ bottle of Nicolas Vahé Dressing / basil
Nicolas Vahé Salt & pepper / Everyday mix
1 glass of Nicolas Vahé Nut mixture / smoked almonds, chopped
A handful of wood-sorrel
Preparation
Rinse and cut the two mini romaine into four longitudinal sections and place them in a salad bowl. Top with edamame beans, spring onions, rucola and chives.
Mix yogurt and basil dressing in a bowl. Add salt and pepper to taste.
Spread dressing over the salad and top with the chopped almonds and decorate with wood-sorrel.
Salt and pepper, Everyday Mix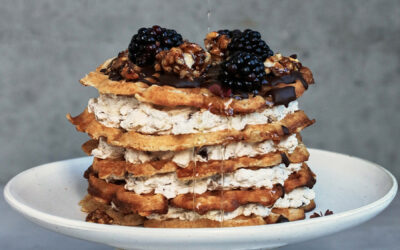 Makes: 1 cake for 6-8 people Prep time: 120 minutes Ingredients 1 bag of Nicolas Vahé Waffle & Pancake Mix 50 g melted butter 50 g Nicolas Vahé Olive Oil / Walnut 3 eggs 300 ml milk 125 g...
read more