Serves 2 persons
Prep time 15 min.
Ingredients
200 ml Nicolas Vahé Green Tea / Peppermint
200 ml Nicolas Vahé Lemonade / Ginger & Lime
1 tsp Nicolas Vahé Curd / Pistachio
10 g fresh ginger
6 fresh mint leaves
The juice of 1.5 freshly squeezed lime
150 g frozen spinach
1 avocado
Preparation
Bring water to boil and pour it over the tea. Let it steep for 10 minutes and cool it down.
Combine all ingredients in a blender and blend until smooth.
Pour into a glass, add a straw and enjoy.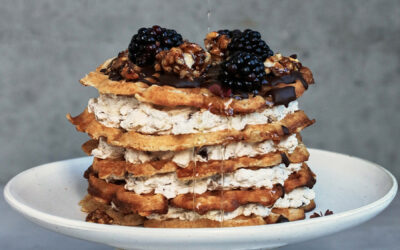 Makes: 1 cake for 6-8 people Prep time: 120 minutes Ingredients 1 bag of Nicolas Vahé Waffle & Pancake Mix 50 g melted butter 50 g Nicolas Vahé Olive Oil / Walnut 3 eggs 300 ml milk 125 g...
read more