Hearty breakfast with oats, seeds & almond butter
Serves 2 people
Prep time 15 minutes
Difficulty Easy
Ingredients
300 ml rolled oats
1 tbsp flax seeds
1 tbsp pumpkin seeds
½ tsp Nicolas Vahé Salt / french sea salt
300 ml water
300 ml milk
1 tbsp Nicolas Vahé Almond spread
1 handful fresh blueberries
2 tbsp Nicolas Vahé Granola / hazelnuts, dates & almonds
Preparation
Put oats, flax seeds and pumpkin seeds in a small saucepan together with salt, water and milk. Bring to the boil while stirring to avoid the porridge from sticking to the bottom of the pan. Cook for 3-5 minutes. Remove the pan from the heat when you have reached the desired consistency.
Serve the porridge in a breakfast bowl and top with almond butter, fresh blueberries and granola. The perfect way to start the day.
Granola / hazelnuts, dates & almonds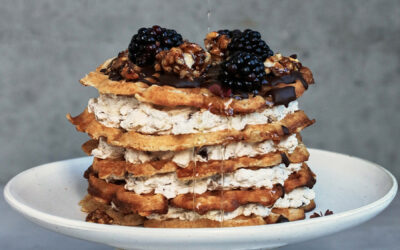 Makes: 1 cake for 6-8 people Prep time: 120 minutes Ingredients 1 bag of Nicolas Vahé Waffle & Pancake Mix 50 g melted butter 50 g Nicolas Vahé Olive Oil / Walnut 3 eggs 300 ml milk 125 g...
read more