Home made iced tea with mango syrup
Serves 15 people
Prep time 15 min. (+1 day)
Ingredients
10 g Nicolas Vahé Green tea / fig & lemon
1 litre of cold water
1.5 tbsp. Nicolas Vahé Fruit syrup / mango
1 bottle of Nicolas Vahé Lemonade / ginger & lime
½ lemon
Preparation
Put the tea in a tea bag and close it with a knot.
Put the tea bag in an airtight container with the cold water. Leave to cool overnight.
Mix the tea with lemonade and add mango syrup and lemon juice to taste.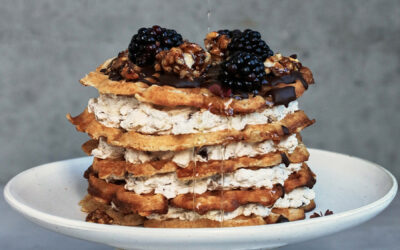 Makes: 1 cake for 6-8 people Prep time: 120 minutes Ingredients 1 bag of Nicolas Vahé Waffle & Pancake Mix 50 g melted butter 50 g Nicolas Vahé Olive Oil / Walnut 3 eggs 300 ml milk 125 g...
read more