Prep time 20 minutes
Serves 2 people
Difficulty Easy
 Ingredients
½ bottle Nicolas Vahé Iced Coffee / Cream Caramel
½ glass Nicolas Vahé Sugar / Salt Caramel
Ice cubes
3 dl milk 
Preparation
Add Iced Coffee and sugar to a bowl and whip for approx. 10 minutes for an even and airy mass. Distribute ice cubes and milk in two glasses and top off with coffee foam.
Iced coffee, Cream Caramel, DK, 200 ml.
Sugar, Salt Caramel, 100 g.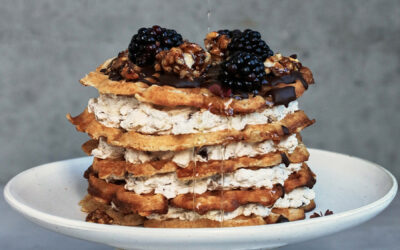 Makes: 1 cake for 6-8 people Prep time: 120 minutes Ingredients 1 bag of Nicolas Vahé Waffle & Pancake Mix 50 g melted butter 50 g Nicolas Vahé Olive Oil / Walnut 3 eggs 300 ml milk 125 g...
read more