Prep time 1 day + 5 minutes
Serves 2 people
Difficulty Easy
Ingredients
2 dl water
1 tsp. Nicolas Vahé Tea / Moroccan Mint, in a teabag
4 cl Nicolas Vahé Sirup / Elderflower
½ bottle Nicolas Vahé Lemonade / Raspberry & Rhubarb
Preparation
Add cold water and tea to a container with lid and allow to pull in the fridge for 1 day. Distribute sirup and mint tea in two glasses. Top off with ice cubes and lemonade and serve.
Green Tea, Moroccan Mint, 100 g.
Fruit Syrup, Elderflower, 20 cl.
Lemonade – Raspberry & Rhubarb, DK, 75 cl.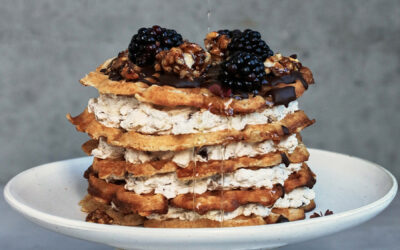 Makes: 1 cake for 6-8 people Prep time: 120 minutes Ingredients 1 bag of Nicolas Vahé Waffle & Pancake Mix 50 g melted butter 50 g Nicolas Vahé Olive Oil / Walnut 3 eggs 300 ml milk 125 g...
read more