Prep time 5 minutes
Serves 2 people
Ingredients
200 ml chocolate milk
40 ml Nicolas Vahé Syrup, Irish Rum
200 ml Nicolas Vahé Coffee, Espresso
150 g vanilla ice cream
Ice cubes
Preparation
Add chocolate milk, syrup, brewed and cooled coffee and 100 g vanilla ice cream to a blender and mix well.
Pour into two cups and add ice cubes.
Top with 50 g vanilla ice cream and some extra syrup.
Coffee, Espresso Beans, 165 g.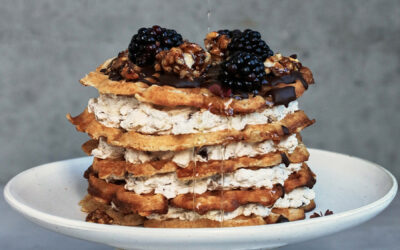 Makes: 1 cake for 6-8 people Prep time: 120 minutes Ingredients 1 bag of Nicolas Vahé Waffle & Pancake Mix 50 g melted butter 50 g Nicolas Vahé Olive Oil / Walnut 3 eggs 300 ml milk 125 g...
read more