Mango & raspberry smoothie
Prep time 10 min.
Makes 4 small glasses
Difficulty Easy
Ingredients
50 ml Nicolas Vahé Syrup / Mango
200 ml frozen raspberries
1 passion fruit
1 banana
300 ml apple juice
Preparation
Add all ingredients to a blender and blend until smooth.
Serve in Nicolas Vahé bottle with clamp lid.
FRUIT SYRUP, MANGO, 20 CL.
BOTTLE WITH PATENT PLUG, CLEAR, 480 ML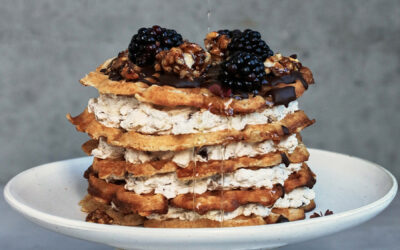 Makes: 1 cake for 6-8 people Prep time: 120 minutes Ingredients 1 bag of Nicolas Vahé Waffle & Pancake Mix 50 g melted butter 50 g Nicolas Vahé Olive Oil / Walnut 3 eggs 300 ml milk 125 g...
read more