Prep time
10 minutes
Serves
2 people
Ingredients
20 ml Nicolas Vahé Vinegar, Cucumber
20 ml Nicolas Vahé Syrup, Vanilla
½ tsp Nicolas Vahé Pepper Mix
70 g watermelon
70 g Galia melon
4 strawberries
50 g feta
Fresh mint leaves
A pinch of salt
Preparation
Add vinegar, syrup, salt and pepper to a shaker and shake well.
Cut fruit and berries into large pieces.
Serve the fruit salad in a bowl topped with the dressing, feta and fresh mint leaves.
Vinegar – Cucumber, 200 ml.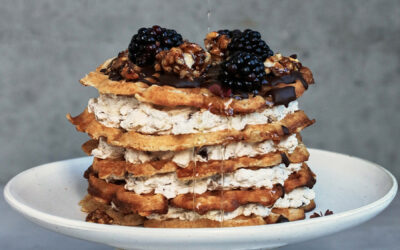 Makes: 1 cake for 6-8 people Prep time: 120 minutes Ingredients 1 bag of Nicolas Vahé Waffle & Pancake Mix 50 g melted butter 50 g Nicolas Vahé Olive Oil / Walnut 3 eggs 300 ml milk 125 g...
read more