Open-faced cheese sandwich with confit
Prep time
5 minutes (if the bread is store-bought and ready)
Serves
4 sandwiches
Ingredients
4 slices of rye bread
Butter
300 g North Sea Cheese (or a similar hard cheese such as Gouda) in slices
1 glass of Nicolas Vahé Confit / Onion & Balsamic Vinegar
1 glass of Nicolas Vahé Nut Mix / Caramelised Hazelnuts w. Rosemary, coarsely chopped
A small handful of fresh thyme
Salt and pepper
Rosemary
Preparation
Butter the slices of rye bread.
Add cheese, confit and hazelnuts on each slice.
Top with fresh thyme and rosemary and add salt and pepper to taste.
CONFIT, ONION & BALSAMIC VINEGAR, 140 G.
CARAMELISED HAZELNUTS, WITH ROSEMARY, 70 G.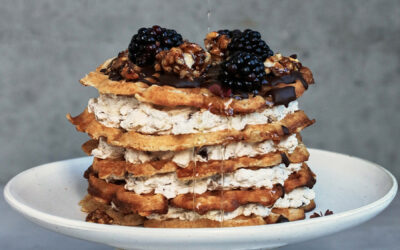 Makes: 1 cake for 6-8 people Prep time: 120 minutes Ingredients 1 bag of Nicolas Vahé Waffle & Pancake Mix 50 g melted butter 50 g Nicolas Vahé Olive Oil / Walnut 3 eggs 300 ml milk 125 g...
read more