Open-faced sandwich with egg and prawn
Prep time
10 minutes
Serves
4 people
Ingredients
4 eggs
170 g prawns in brine
3 tsp Nicolas Vahé Pesto / Basil & Lemon
4 slices of rye bread
Butter
A handful of mixed salad
1 piece of hot smoked salmon
4 tsp Nicolas Vahé Mayo / Garlic
1 bunch of asparagus in slices
Nicolas Vahé Salt / Black Sea Salt
Preparation
Heat a frying pan with olive oil and make 4 fried eggs.
Drain the prawns and mix with pesto.
Butter the bread and add salad. Place a fried egg on each slice, add prawns and salmon.
Add a spoonful of mayo on each slice and finish with asparagus and salt and pepper.
Garnish with fresh herbs.
PESTO, BASIL & LEMON, 135 G
MAYONNAISE, GARLIC, 135 G.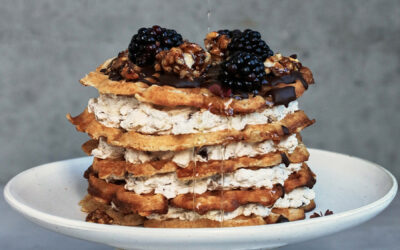 Makes: 1 cake for 6-8 people Prep time: 120 minutes Ingredients 1 bag of Nicolas Vahé Waffle & Pancake Mix 50 g melted butter 50 g Nicolas Vahé Olive Oil / Walnut 3 eggs 300 ml milk 125 g...
read more