Open-fire coq au vin blanc
Prep time 60 minutes Serves 4-6 people Ingredients 1 whole chicken cut into thighs, breast and wings 2 tbsp Nicolas Vahé Olive Oil / Garlic 25 g butter 4 slices of bite-size bacon 250 g various mushrooms cut into small pieces 1 tsp Nicolas Vahé Spices / Meat 2 shallots, finely chopped 2 cloves of garlic, finely chopped 250 ml cream 250 ml Nicolas Vahé White Wine 1 bunch of flat-leaf parsley Nicolas Vahé Salt & Pepper / Everyday Mix to taste Preparation Over an open fire, melt butter in a pot and top with olive oil. Sear the chicken on all sides along with bacon. Add mushrooms and spices and let it simmer for a bit. Add shallots and garlic and when sauteed, add wine and cream. Let it simmer for about 20 minutes until the chicken is done. Serve with parsley, salt, pepper and flat bread.
OLIVE OIL WITH GARLIC, 25 CL.
SPICES, ROSEMARY, BASIL & THYME, 1.2 OZ (35G)
WHITE WINE, CÔTE DU RHÔNE – BROTTE, 75 CL.
SALT AND PEPPER, EVERYDAY MIX, 310 G.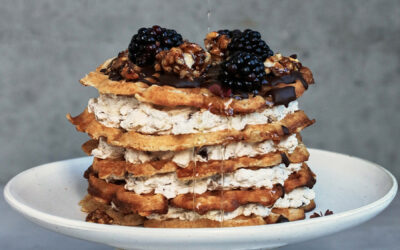 Makes: 1 cake for 6-8 people Prep time: 120 minutes Ingredients 1 bag of Nicolas Vahé Waffle & Pancake Mix 50 g melted butter 50 g Nicolas Vahé Olive Oil / Walnut 3 eggs 300 ml milk 125 g...
read more