Serves 12-16 pcs.
Prep time 30 min.
Ingredients
250 ml wheat flour
250 ml milk
2 eggs
1 tbsp Nicolas Vahé Sugar, Lemon
A pinch of salt
1 tsp baking powder
4-5 tbsp Nicolas Vahé Jam, Raspberry, Rhubarb & Vanilla
Butter for frying
Preparation
Mix flour, sugar, salt and baking powder in a bowl. Whip in milk and egg yolks.
In a second bowl, beat the egg whites until stiff and fold them into the dough.
Fold the jam into the dough but do not mix it completely.
Fry the pancakes on a pan with a bit of butter.
JAM, RHUBARB, RASPBERRY & VANILLA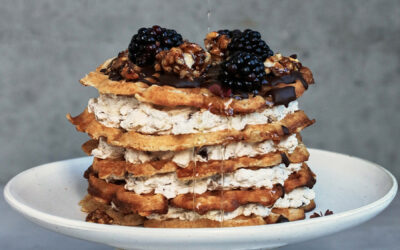 Makes: 1 cake for 6-8 people Prep time: 120 minutes Ingredients 1 bag of Nicolas Vahé Waffle & Pancake Mix 50 g melted butter 50 g Nicolas Vahé Olive Oil / Walnut 3 eggs 300 ml milk 125 g...
read more