Pearled emmer with new potatoes and asparagus
Prep time 40 minutes
Serves 4 people
Difficulty Easy 
Ingredients
500 g new potatoes
3 tbsp. Nicolas Vahé Olive Oil / Herbs Provence
½ bag Nicolas Vahé Pearled Emmer
A bunch of asparagus
100 g cape gooseberries
A handful of peas shoots
1 glass Nicolas Vahé Pesto / Rocket & Almond
¼ glass Nicolas Vahé Salad Topping / Mixed Seeds
Preparation
Preheat the oven to 200°. Cut the potatoes in chunky bits, mix with olive oil and roast in the oven for 20-25 minutes. Boil Pearled Emmer according to recommendations on the packaging. Chop the asparagus and half the cape gooseberries Drain the pearled emmer and allow to cool off. Mix the roasted potatoes with half of the pesto and mix the rest with the pearled emmer. Serve pearled emmer topped with potatoes, asparagus, cape gooseberries, peas shoots and salad topping.
Olive oil, Herbs De Provence, 25 cl.
Organic Pearled Emmer, 350 g.
Pesto, Rocket & Almond, 135 g.
Salad Topping – Mixed Seeds, 170 g.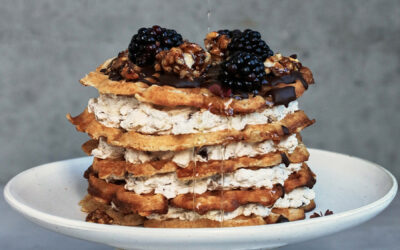 Makes: 1 cake for 6-8 people Prep time: 120 minutes Ingredients 1 bag of Nicolas Vahé Waffle & Pancake Mix 50 g melted butter 50 g Nicolas Vahé Olive Oil / Walnut 3 eggs 300 ml milk 125 g...
read more