Raspberry muffins with white chocolate
Prep time 
40 minutes
Serves
12 muffins
Ingredients
70 g soft butter
100 g sugar
1 egg
1 tsp Nicolas Vahé Syrup / Vanilla
300 ml plain yoghurt
190 g wheat flour
1.5 tsp baking powder
1/4 tsp baking soda
1/4 tsp fine salt
100 g frozen raspberries
1-2 bars of Nicolas Vahé White Chocolate / Raspberry & Tea, coarsely chopped
Preparation
Preheat the oven to 180 degrees.
In a bowl, whisk butter and sugar until fluffy. Add egg, vanilla and yoghurt and whisk again.
Fold in the flour, baking powder and baking soda and mix. Fold in raspberries and chocolate.
Pour the batter into 12 muffin cups and bake for 15-20 minutes.
Let them cool and serve.
Nicolas Vahé Syrup / Vanilla
WHITE CHOCOLATE, RASPBERRY & TEA, 50 G.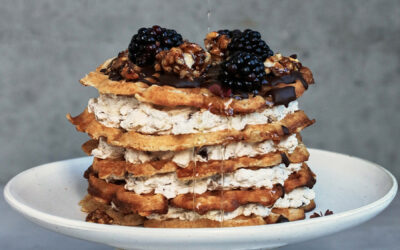 Makes: 1 cake for 6-8 people Prep time: 120 minutes Ingredients 1 bag of Nicolas Vahé Waffle & Pancake Mix 50 g melted butter 50 g Nicolas Vahé Olive Oil / Walnut 3 eggs 300 ml milk 125 g...
read more