Prep time
10 minutes
Serves
4 people
Ingredients
1 can of chickpeas
1 glass of Nicolas Vahé Tapenade / Sun-Dried Tomato
100 ml water
Juice of 1/4 lemon
1 tsp Nicolas Vahé Salt / Chilli Blend
Preparation
Drain the chickpeas and add them to a blender along with tapenade and water. Blend until soft and smooth.
Add lemon juice and salt to taste.
TAPENADE, SUNDRIED TOMATOES, 135 G.
SALT, CHILLI BLEND, 315 G.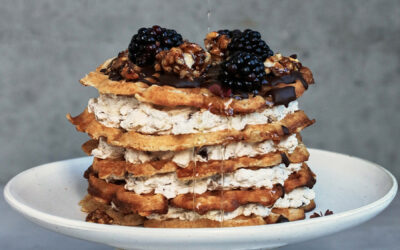 Makes: 1 cake for 6-8 people Prep time: 120 minutes Ingredients 1 bag of Nicolas Vahé Waffle & Pancake Mix 50 g melted butter 50 g Nicolas Vahé Olive Oil / Walnut 3 eggs 300 ml milk 125 g...
read more