Sweet potato salad with tomato dressing and parmesan
Serves 4 people
Prep time 40 minutes
Ingredients
3-4 small / medium sweet potatoes
½ bottle of Nicolas Vahé Dressing / tomato
75 g of parmesan
75 g of kale
A handful of pea shoots
Nicolas Vahé Salt and pepper / Everyday mix
Preparation
Preheat the oven to 200 °C hot air.
Cut the sweet potatoes into cubes and place them in an ovenproof dish. Then, mix them with the tomato dressing and bake them in the oven for 15-20 minutes. until the potatoes are tender and have a golden colour.
Take the dish out of the oven and grate half of the parmesan over the potatoes. Then bake it for another 5 min.
Take the potatoes out of the oven and let them cool.
Rinse the kale as well as the fresh pea shoots. Then chop the kale and arrange it all on a salad dish.
Top the salad with the baked sweet potatoes and grate the remaining parmesan over the salad.
Sprinkle with salt and pepper.
Salt and pepper, Everyday Mix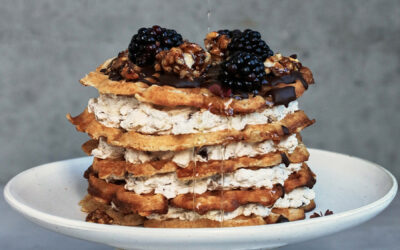 Makes: 1 cake for 6-8 people Prep time: 120 minutes Ingredients 1 bag of Nicolas Vahé Waffle & Pancake Mix 50 g melted butter 50 g Nicolas Vahé Olive Oil / Walnut 3 eggs 300 ml milk 125 g...
read more