The bittersweet Gin & Tonic
Flavours are unleashed in this gin & tonic. The pink peppercorns and thyme note from the tonic come together to create a fine balance between the bitter and the sweet elements. Adding a splash of freshness, the orange juice rounds off the flavour. The tonic can be replaced with the Nicolas Vahé ginger beer if you want to spice things up. 
Ingredients
2 cl Nicolas Vahé Syrup / ginger & thyme 
12 Nicolas Vahé Garnish / pink peppercorn 
1 tsp Nicolas Vahé Garnish / orange peel 
Ice cubes 
2 cl gin 
12 cl Nicolas Vahé Tonic 
2 slices of fresh, organic orange 
1 sprig of thyme 
Preparation
Crush the pink peppercorns and put them in the
glass. Add syrup, orange peel and ice cubes. 
Pour in the gin, stir and top with tonic. Squeeze
in the orange juice and add the slices as garnish. 
Top it off with a sprig of thyme and stir. Drink and enjoy.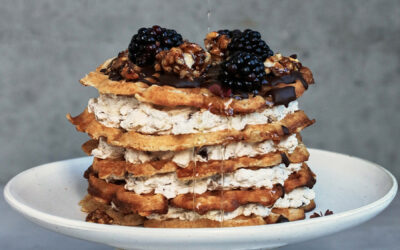 Makes: 1 cake for 6-8 people Prep time: 120 minutes Ingredients 1 bag of Nicolas Vahé Waffle & Pancake Mix 50 g melted butter 50 g Nicolas Vahé Olive Oil / Walnut 3 eggs 300 ml milk 125 g...
read more