Tomato salad with capers, olive and mint
Prep time
15 minutes
Serves
2-4 people
Ingredients
4 beef tomatoes in various colours
1 tbsp Nicolas Vahé Capers with salt
2 tbsp Nicolas Vahé Mixed Olives
6 mint leaves
2 tbsp Nicolas Vahé Olive Oil, Garlic
Salt/pepper
Preparation
Slice the tomatoes.
Arrange on a serving dish with capers, olive, mint. Drizzle with olive oil.
Capers, with sea salt, 100 g.
Mixed Olives, in flavoured oil, 190 g.
Olive oil, Garlic, 25 cl.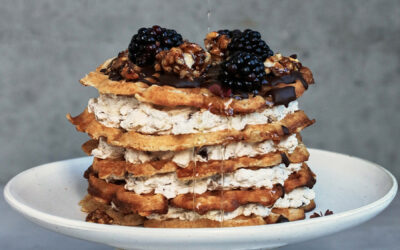 Makes: 1 cake for 6-8 people Prep time: 120 minutes Ingredients 1 bag of Nicolas Vahé Waffle & Pancake Mix 50 g melted butter 50 g Nicolas Vahé Olive Oil / Walnut 3 eggs 300 ml milk 125 g...
read more