A beautiful table arrangement is a must when having guests. Therefore, you can try to set the table with the new tableware of unique stoneware from Nicolas Vahé, if you want to create the perfect setting for a cosy dinner. The two collections will look beautiful separately, but you can also use them in combination with your existing tableware or you can combine the two collections with each other. No matter what, you can welcome the guests with a personal table arrangement that will impress. Read more here about the two different collections.
Forest
The series, Forest, creates the perfect settings for all kinds of food. Due to the rustic and exclusive look, the dark shades of the stoneware will find expression in a personal way as soon as the food is served on it. The combination of the stylish and modern look makes it possible to combine the series with other colours as well. 
Stone
The unique series, Stone, consists of anything from plates and bowls to a mug and jug. The stoneware has elegant greyish and earthly shades which will make the food the centre of attention in a decorative way. The raw and natural look compliments each other in a highly-contrasting and beautiful way. 
Mix & Match
With Nicolas Vahé's two new series, you can mix and match different shades. The rustic surfaces and shades in the Forest-series will compliment the Stone series beautifully due to its grey and earthly shades. By combining the two types of tableware with each other, you can create a restrained and calm table arrangement in balance.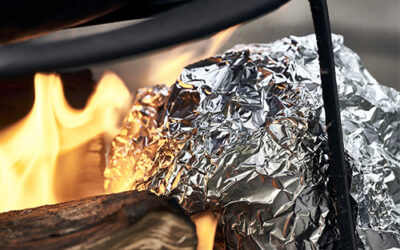 Let the delicious aroma of your cooking spread across the garden as the smoke rises from an open fire. Outdoor cooking is the perfect way to enjoy the outdoors with friends and family. Especially in...
read more