Asparagus salad with cream and vinegar dressing
Prep time
25 minutes
Serves
4 people
Ingredients
200 g green asparagus
100 g fresh peas
6-8 radishes
100 ml cream
1 tbsp Nicolas Vahé Vinegar, Cucumber
1 tbsp freshly squeezed lemon juice
2 tsp sugar
1 bunch of watercress
Nicolas Vahé Pepper, Lemon Peel
Nicolas Vahé French Sea Salt
Preparation
Blanch the asparagus and let it cool.
Cut the radishes lengthwise, soak in ice water for 10 minutes and drain.
Shell the peas and arrange the salad on a serving dish.
Make the dressing by mixing cream, vinegar, sugar and lemon juice. Add salt and pepper to taste. Pour it over the salad and garnish with watercress.
Vinegar, Vinegar – Cucumber, 200 ml.
Pepper – Lemon Peel, 150 g.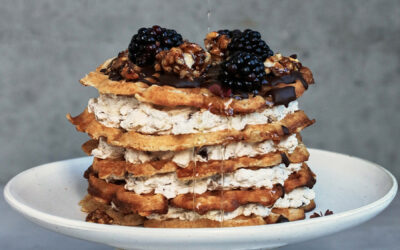 Makes: 1 cake for 6-8 people Prep time: 120 minutes Ingredients 1 bag of Nicolas Vahé Waffle & Pancake Mix 50 g melted butter 50 g Nicolas Vahé Olive Oil / Walnut 3 eggs 300 ml milk 125 g...
read more