Serves: 4 people
Prep time: 30 minutes
Ingredients
A handful of kale, rinsed and cut into smaller pieces
1-2 tbsp Nicolas Vahé Olive Oil / Avocado
Nicolas Vahé Salt & Pepper / Everyday mix
2 tbsp hummus
2 tsp Nicolas Vahé Pesto / Old Genoa
4 slices of toasted rye bread
1 thinly sliced avocado
Preparation
Preheat the oven to 125°C.
Toss the kale with olive oil and place on a baking sheet with baking paper.
Bake for 10 minutes, making sure not to let it burn.
Sprinkle with salt and pepper and put aside.
Mix hummus and pesto in a bowl.
Spread a layer of hummus on each piece of bread.
Top with a quarter of avocado and garnish with crisp kale and fresh herbs.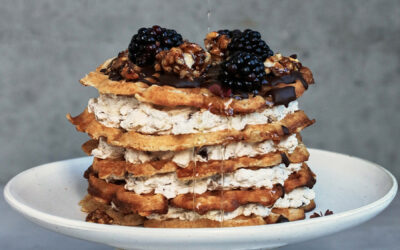 Makes: 1 cake for 6-8 people Prep time: 120 minutes Ingredients 1 bag of Nicolas Vahé Waffle & Pancake Mix 50 g melted butter 50 g Nicolas Vahé Olive Oil / Walnut 3 eggs 300 ml milk 125 g...
read more