Baby romaine lettuce with parmesan and summer truffle
Prep time
25 minutes
Serves
2-4 people
Ingredients
2 heads of baby romaine lettuce
2 tbsp Nicolas Vahé Summer Truffle
50 g fresh parmesan flakes
2 tbsp Nicolas Vahé Olive Oil / Lemon
Salt/pepper
4 Indian cress leaves
Preparation
Half the baby romaine lettuce lengthwise, giving you 4 halves.
Fry them on a pan at medium heat for 10 minutes until tender with a bite.
Arrange on a plate with parmesan, summer truffle, olive oil and garnish with Indian cress.
Sliced summer truffle, 80 g.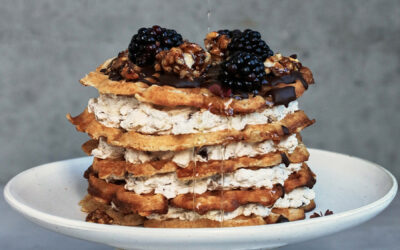 Makes: 1 cake for 6-8 people Prep time: 120 minutes Ingredients 1 bag of Nicolas Vahé Waffle & Pancake Mix 50 g melted butter 50 g Nicolas Vahé Olive Oil / Walnut 3 eggs 300 ml milk 125 g...
read more