Prep time 45 min. + 12 hours to rise
Makes 2-4 bread rolls
Difficulty Easy
Ingredients
1 bag of Nicolas Vahé Bread mix / Crusty Morning
25 g fresh yeast
450 ml water
2 tsp salt
Preparation
Prepare the dough by following the instructions on the back of the bread mix. However, only use 450 ml water.
Depending on the length you want, make 2 to 4 bread rolls.
Bake for 10-15 minutes at 240°.
Let it cool.
ORGANIC BREADMIX, CRUSTY MORNING, 600 G.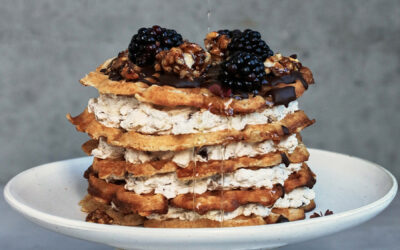 Makes: 1 cake for 6-8 people Prep time: 120 minutes Ingredients 1 bag of Nicolas Vahé Waffle & Pancake Mix 50 g melted butter 50 g Nicolas Vahé Olive Oil / Walnut 3 eggs 300 ml milk 125 g...
read more