Baked avocado with seeds and chili mayo
Prep time
25 minutes
Serves
4 people
Ingredients
2 avocados
2 tbsp Nicolas Vahé Salad Topping, Mixed Seeds
4 tsp Nicolas Vahé Mayonnaise, Hot Chili
4 fresh coriander leaves
Salt and pepper
Preparation
Slice the avocados in half and remove the pits. Sprinkle with salad topping, salt and pepper.
Bake the avocadoes at 180 degrees until golden but still with a bite.
Add mayo in the holes and garnish with coriander.
Salad Topping – Mixed Seeds, 170 g.
Mayonnaise, Hot Chili, 135 g.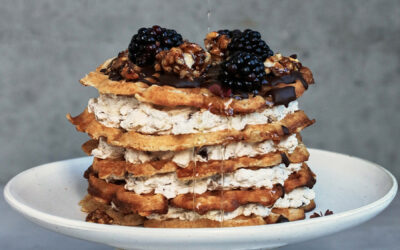 Makes: 1 cake for 6-8 people Prep time: 120 minutes Ingredients 1 bag of Nicolas Vahé Waffle & Pancake Mix 50 g melted butter 50 g Nicolas Vahé Olive Oil / Walnut 3 eggs 300 ml milk 125 g...
read more