Makes: 8-10 slices
Prep time: 75 minutes, 40-50 minutes to rise
Ingredients
100 g muscovado sugar
2 eggs
250 g wheat flour
2 tsp baking powder
2 tbsp cinnamon
1 tbsp cardamom
1 tsp salt
50 ml Nicolas Vahé oil / Walnut
50 ml rapeseed oil
4 mashed, ripe bananas
100 g coarsely chopped chocolate
100 g coarsely chopped walnuts
1 ripe banana
Preparation
Preheat a fan-assisted oven to 170°C.
Whisk together the sugar and eggs until light and fluffy.
Add in wheat flour, baking powder, spices and oils.
Fold in the mashed bananas, chocolate and walnuts.
Pour into a greased loaf pan.
Cut the last banana in half and place it on top.
Bake for 40-50 minutes.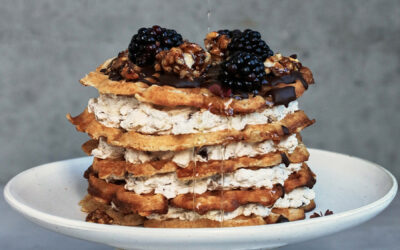 Makes: 1 cake for 6-8 people Prep time: 120 minutes Ingredients 1 bag of Nicolas Vahé Waffle & Pancake Mix 50 g melted butter 50 g Nicolas Vahé Olive Oil / Walnut 3 eggs 300 ml milk 125 g...
read more