Bao buns with vannamei prawns
Prep time
30 minutes
Serves
2 people
Ingredients
2 bao buns
8 vannamei prawns without shell
1 tbsp fresh lemon juice
1 tbsp Nicolas Vahé Oil, Chilli
1 tbsp Nicolas Vahé Marinade, Coconut & Mango
1 tbsp Nicolas Vahé Mayonnaise, Garlic
1 tbsp freshly chopped coriander
1 sliced shallot
1 tbsp flour
Salt/pepper
300 ml neutral oil
1 avocado
1 handful lamb's lettuce
Preparation
Mix lime juice, coriander, salt and pepper and let it rest for 15 minutes. Fry in the pan for a few minutes.
Steam the buns for about 8 – 10 minutes (as written on the packaging).
Coat the onion in flour and fry in oil for about 180°C until golden.
Make the buns with marinade, mayo, lettuce, avocado, prawns, coriander and onions.
OLIVE OIL, CHILLI, 25 CL.
MARINADE, COCONUT & MANGO, 200 G.
MAYONNAISE, GARLIC, 135 G.
SALT AND PEPPER, EVERYDAY MIX, 310 G.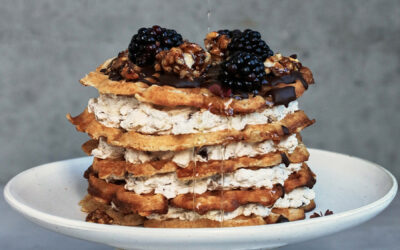 Makes: 1 cake for 6-8 people Prep time: 120 minutes Ingredients 1 bag of Nicolas Vahé Waffle & Pancake Mix 50 g melted butter 50 g Nicolas Vahé Olive Oil / Walnut 3 eggs 300 ml milk 125 g...
read more