BBQ chicken with cold rice salad in salad-tacos
Serves 4 people
Prep time 40 min
Ingredients
350 g of chicken fillet
1 bottle of Nicolas Vahé Barbecue sauce / soya & sesame
1 tbsp. Nicolas Vahé Ketchup / San Marzano tomatoes
Nicolas Vahé Salt & Pepper / Everyday mix
3 dl rice, cooled
200 g of edamame beans
100 g kale, cut
¼ bottle of Nicolas Vahé Dressing / basil
8 pcs. iceberg lettuce leaves
2 tbsp. Nicolas Vahé Salad topping / mixed seeds
3 pieces of spring onions, in thin slices
1 handful of wood-sorrel
Preparation
Preheat the oven to 180 °.
Cut the chicken fillets into smaller pieces and place them in an ovenproof dish and pour barbecue sauce and ketchup over it. Mix it well. Bake for about 20-25 min.
Mix rice, edamame beans, kale and dressing in a bowl.
Put a good spoonful of rice salad in an iceberg lettuce leaf and top it with barbecue chicken.
Decorate with spring onions, lettuce topping and wood-sorrel.
Barbecue Sauce, Soy & Sesame
Ketchup, San Marzano Tomatoes
Salad Topping – Mixed Seeds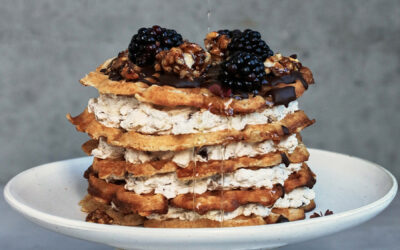 Makes: 1 cake for 6-8 people Prep time: 120 minutes Ingredients 1 bag of Nicolas Vahé Waffle & Pancake Mix 50 g melted butter 50 g Nicolas Vahé Olive Oil / Walnut 3 eggs 300 ml milk 125 g...
read more