Prep time 30 min + 1.5 hours to rise
Makes about 10 buns
Difficulty Easy
Ingredients
300 ml whole milk
25 g fresh yeast
5 tbsp sugar
2 eggs
1 bag of Nicolas Vahé Bread mix / Crusty Morning
2 tsp salt
100 g cold butter cut into squares
1 glass of Nicolas Vahé Salad Topping / Mixed Seeds
Preparation
Heat the milk in a saucepan and pour into a bowl. Dissolve the yeast in the milk.
Add sugar, eggs and salt. Gradually add in the bread mix and knead it well.
Gradually add butter and knead well until the dough is smooth and elastic.
Leave it to rise for an hour.
Dust the countertop with flour, place the dough and cut it into 10 pieces.
Put them on a baking tray with baking paper, cover and leave to rise for 30 minutes.
Pre-heat the oven to 200°, glaze the buns with milk or egg, and top with Salad Topping or flour.
Bake for 15 minutes until golden.
Let them cool off.  
ORGANIC BREADMIX, CRUSTY MORNING, 600 G.
SALAD TOPPING – MIXED SEEDS, 170 G.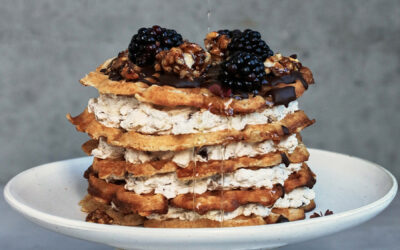 Makes: 1 cake for 6-8 people Prep time: 120 minutes Ingredients 1 bag of Nicolas Vahé Waffle & Pancake Mix 50 g melted butter 50 g Nicolas Vahé Olive Oil / Walnut 3 eggs 300 ml milk 125 g...
read more