Brownie topped with chocolate and marshmellows
Serves 12 people
Prep time 1 hour (+1 day)
Ingredients Brownie
200 g dark chocolate
200 g sugar
200 g butter
6 eggs, size M
1 dl of buckwheat flour
Ingredients Topping
100 g dark chocolate, finely chopped
1 dl whipping cream
20 g butter, cut into cubes
75 g of mixed nuts
2 handful of Nicolas Vahé Marshmallows / classic
1 bag of Nicolas Vahé chocolate-coated almonds with cinnamon, coarsely chopped
1 bag of Nicolas Vahé White chocolate / raspberry & tea, in large pieces
Preparation
Preheat the oven to 180 °.
Put chocolate, sugar and butter in a pot and melt it at medium heat. Remove it from the heat as soon as the sugar has dissolved.
Crack the eggs in the chocolate-mass and whip it well. Add buckwheat flour and whip further. Put the dough into a square shape lined with baking paper. Bake the cake for about 35-40 min.
Heat the cream in a pot and pour it over the chopped chocolate. Stir gently. Add butter and stir the chocolate blank.
Cover the cake with chocolate.
Roughly chop the mixed nuts. Sprinkle nuts, marshmallows, almonds and white chocolate over the cake. Refrigerate till the next day.
Chocolate Covered Almond & Cinnamon
White Chocolate – Raspberry & Tea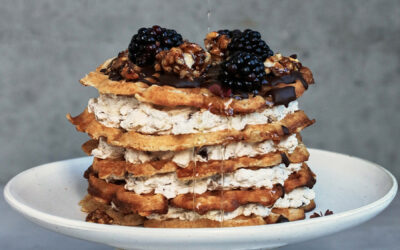 Makes: 1 cake for 6-8 people Prep time: 120 minutes Ingredients 1 bag of Nicolas Vahé Waffle & Pancake Mix 50 g melted butter 50 g Nicolas Vahé Olive Oil / Walnut 3 eggs 300 ml milk 125 g...
read more