Serving 4
4 duck breast

4 oranges

1 tbsp. sugar

1 tbsp. sherry vinegar

20 cl. chicken broth

1 dl. yuzu syrup

1 tbsp. maizena

French Sea salt

Black pepper

Preparation

Wash the oranges, remove the zest, and cut them into fine julienne strips. Boil them for 2 min- utes, cool them, and drain.

Peel the raw oranges and remove the fillets.

Add sugar and vinegar to a saucepan and cook over low heat until it becomes a dark blond caramel. Add chicken stock, orange juice, orange peel (julienne) and most of the Yuzu syrup. Season with salt and pepper and cook for 20 minutes over low heat.

Crisscross the skin side of the duck breasts with a knife and season with salt and pepper.

Place the duck breasts in a cold frying pan and turn up the heat. Cook skin side down for 2 minutes on high heat (be careful not to burn) and 3 minutes on low heat. Turn the duck breasts over and cook them for 3 minutes on the flesh side.

Remove the breasts from the pan, place them on a plate, and brush with the rest of the yuzu syrup. Keep warm under aluminum foil.

Mix cold water and cornstarch. Add to the sauce while whisking. Add the orange filets to the sauce and simmer for 5 minutes.

Carve the duck breasts into slices, place them on a plate and coat them lightly with the sauce. Serve immediately with the remaining sauce on the side.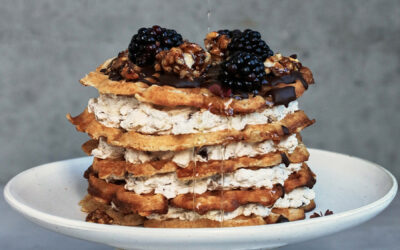 Makes: 1 cake for 6-8 people Prep time: 120 minutes Ingredients 1 bag of Nicolas Vahé Waffle & Pancake Mix 50 g melted butter 50 g Nicolas Vahé Olive Oil / Walnut 3 eggs 300 ml milk 125 g...
read more