Caramelised red onion with blue cheese and nutty syrup
Serves 2 people
Difficulty 25 minutes
Ingredients
1 red onion
2 tbsp Nicolas Vahé Balsamic Vinegar
2 tbsp Nicolas Vahé Sugar, Salt Caramel
50 g Nicolas Vahé Nut Mix, Smoked Almonds
50 g blue cheese
2 tbsp Nicolas Vahé Syrup, Caramel
2 fresh thyme twigs
Salt and pepper
Preparation
Peel the onion and slice it into 2 cm thick slices.
Heat the onion in a frying pan, add balsamic vinegar and sugar. Let it cook to reduce the liquid.
Chop and fry the almonds in a frying pan without oil until golden. Remove and mix in a bowl with the syrup.
Arrange the onions on a plate with blue cheese, syrup and garnish with thyme.
Aceto Balsamico di Modena, PGI, 8.5 fl.oz/ 250 ml.
Sugar, Salt Caramel, 100 g.
Nut Mix – Smoked Almonds, 75 g.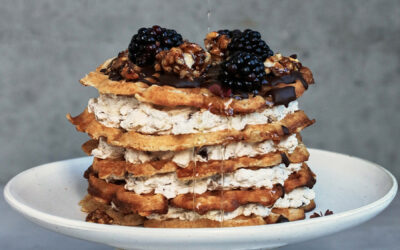 Makes: 1 cake for 6-8 people Prep time: 120 minutes Ingredients 1 bag of Nicolas Vahé Waffle & Pancake Mix 50 g melted butter 50 g Nicolas Vahé Olive Oil / Walnut 3 eggs 300 ml milk 125 g...
read more