Serving 4
500 g extra fresh filet of cod

1 yellow tomato

100 gr. raspberries

1 small red onion

1 small piece of fresh ginger

1 handful fresh coriander leaves

6 tbsp. sherry vinegar

2 limes

1⁄2 red bell pepper

1 tbsp. arrabiata

French Sea salt

White pepper

Preparation

Make sure there are no bones in the filets. Cut into "bite-size" cubes.

Marinate the cod in sherry vinegar and lemon juice. Add grated ginger and finely chopped red bell pepper (after removing stem and seeds). Leave to marinate for at least 30 minutes.

Cut the tomato into small cubes and the raspberries in halves.
Finely dice the red onion and chop the coriander.
Drain the cod and gently mix all ingredients together. Season with salt and pepper.
Serve on plates with a little marinade, a dollop of Arrabiata, and garnish with fresh coriander.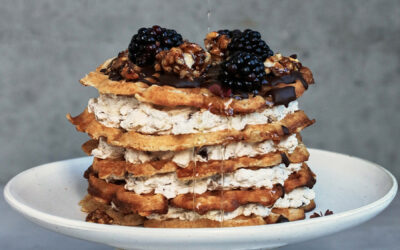 Makes: 1 cake for 6-8 people Prep time: 120 minutes Ingredients 1 bag of Nicolas Vahé Waffle & Pancake Mix 50 g melted butter 50 g Nicolas Vahé Olive Oil / Walnut 3 eggs 300 ml milk 125 g...
read more