Chilli fries with chili mayo
Prep time
20 minutes + 30-35 minutes in the oven
Serves
4 people
Ingredients
4 jacket potatoes
1 tsp salt
2 tbsp Nicolas Vahé Extra Virgin Olive Oil
Nicolas Vahé Salt, Chilli Blend
Preparation
Cut the potatoes into sticks and boil for 5 minutes in lightly salted water. Spice with chilli salt and olive oil.
Bake for 180°C until crisp – about 30-35 minutes.
Mix ½ tsp chilli salt with mayo. Arrange the fries in a bucket or bowl and garnish with the mayo mix.
EXTRA VIRGIN OLIVE OIL, 500 ML.
Salt, Chilli blend, 315 g.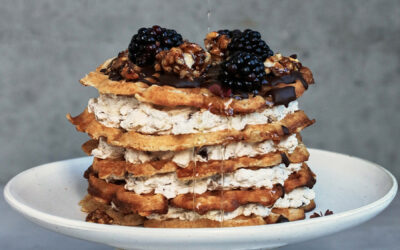 Makes: 1 cake for 6-8 people Prep time: 120 minutes Ingredients 1 bag of Nicolas Vahé Waffle & Pancake Mix 50 g melted butter 50 g Nicolas Vahé Olive Oil / Walnut 3 eggs 300 ml milk 125 g...
read more