Chocolate and marzipan swirls
Prep time 1 hour + 1 hour to rise
Makes 10-12 swirls
Difficulty Medium
Ingredients
130 g butter
300 ml whole milk
50 g fresh yeast
2 eggs
1 glass of Nicolas Vahé Sugar / Lemon
1 pinch of salt
1 bag of Nicolas Vahé Bread mix / Crusty Morning
150 g grated marzipan
150g soft butter
1 glass of Nicolas Vahé Spread / Dark chocolate
Preparation
Melt butter in a saucepan, add milk and let it become warm.
Pour it into a bowl, add yeast and dissolve it.
Add the eggs, one at a time, whip and add sugar and salt.
Gradually add in the bread mix and knead the dough until smooth. Cover and let it rise for an hour.
Pre-heat the oven to 200°.
Mix marzipan, butter and chocolate spread in a bowl.
Dust the countertop with flour, place the dough and roll it into a thin square – roughly 5 mm thick.
Spread the chocolate and marzipan cream on top and roll up the dough.
Cut out 3.5 cm thick pieces, giving you about 10-12 swirls.
Using a wooden stick or something similar, press down on top of each swirl to let the cream cover the dough a bit.
Put the swirls on a baking tray with baking paper.
Glaze with milk or an egg and top with brown sugar if you like.
Bake for 10-12 minutes until golden and leave them to cool.
ORGANIC BREADMIX, CRUSTY MORNING, 600 G.
SPREAD – DARK CHOCOLATE & NUT, 100 G.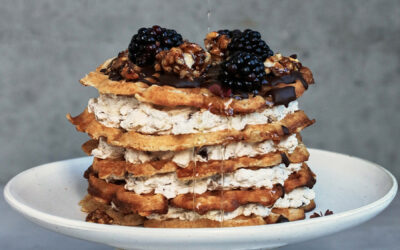 Makes: 1 cake for 6-8 people Prep time: 120 minutes Ingredients 1 bag of Nicolas Vahé Waffle & Pancake Mix 50 g melted butter 50 g Nicolas Vahé Olive Oil / Walnut 3 eggs 300 ml milk 125 g...
read more