Coconut and mango soup with eggs and salicornia
Prep time
10 minutes
Serves
2-4 people
Ingredients
1 glass of Nicolas Vahé Marinade, Coconut & Mango
250 ml cream
2 eggs
4 salicornia twigs
Preparation
Boil the eggs for six minutes.
Mix the marinade with cream and bring it to boiling temperature.
Arrange in bowls with eggs cut in half and garnished with salicornia.
Marinade, Coconut & Mango, 200 g.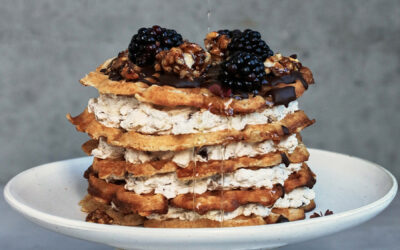 Makes: 1 cake for 6-8 people Prep time: 120 minutes Ingredients 1 bag of Nicolas Vahé Waffle & Pancake Mix 50 g melted butter 50 g Nicolas Vahé Olive Oil / Walnut 3 eggs 300 ml milk 125 g...
read more